Dave concentrates his practice in commercial real estate law, construction law, financing and creditors' rights. He has prosecuted and defended numerous cases involving injunctive relief, breach of contract and fraud claims, lender liability claims, mortgage foreclosures and mechanic's lien claims. He is frequently called upon to arbitrate contract, franchise and other commercial disputes.
In the construction law area, Dave is experienced in handling construction contract negotiation and litigation on behalf of developers, general contractors and lenders; mechanic's lien claims and foreclosures; change order and bid dispute litigation; construction defect litigation; enforcement of payment and performance bonds claims; and workout and disposition of distressed construction projects.
He regularly assists real estate clients in the acquisition, development, financing, construction and leasing of commercial real estate, both retail and residential; joint development agreements; easement agreements; and restrictive covenants.
With respect to his financing and creditors' rights practice, Dave is skilled in assisting banks in the preparation and review of commercial loan documentation, primarily construction lending; loan underwriting and appraisal standards; litigation of contract and warranty claims under loan participation agreements and loan purchase agreements; prosecution of commercial foreclosure and guaranty claims; litigation of lien priority claims; loan workouts; and title insurance claims.
David has achieved an AV® Preeminent rating from Martindale-Hubbell, which is a testament to the fact that a lawyer's peers rank him at the highest level of professional experience.
What is your greatest personal accomplishment?
What charitable cause do you feel passionate about?
I support SPOHNC – Support for People with Oral and Head and Neck Cancer.
Which vacation spot would you recommend?
I enjoy Jackson Hole, WY. It is one of the most spectacular places I have ever visited. Its vistas are breathtaking and the skiing I believe is the most difficult in the United States. Offset this with the fact that Jackson, a legitimate cowboy town, is located five miles from Jackson Hole.
Notre Dame Law School, J.D.
University of Notre Dame, B.A.
Admitted: David is admitted to practice in Illinois.
Memberships: American Arbitration Association – Commercial and Construction Panels of Arbitrators/Mediators; American Bar Association, Forum on the Construction Industry; Federal Trial Bar; Illinois State Bar Association; Chicago Bar Association, Mechanic's Lien and Construction Subcommittee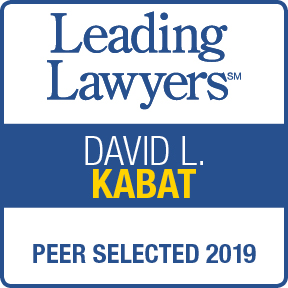 Illinois
216 S Jefferson St
Suite 504
Chicago, IL
60661
Wisconsin
10411 Corporate Dr
Suite 100
Pleasant Prairie, WI
53158
Subscribe to our Newsletter