Most lenders are quite familiar with a UCC financing statement and the procedure for filing the financing statement with the state in order to perfect their lien on a borrower's assets. In most cases the UCC financing statement either contains a broad listing of assets which are encumbered by the lender's lien or a more simple description that the financing statement covers "all assets"[1]. Many times a lender walks away from funding a loan with no more than a security agreement and an "all assets" financing statement thinking it has a perfected security interest in its borrower's assets. While the "all assets" UCC financing statement does provide a lender with a lien on many types of collateral, it is simply untrue that a financing statement can provide a lender with a lien on all categories of assets. There are multiple types of collateral which cannot be perfected through a UCC financing statement; three of the most common pitfalls run into by lenders are described below. Though there is no hard and fast rule, all three of the items below deal with easily-transferable property. A fourth, dealing with insurance policies and proceeds, is deserving of its own article which will be in next month's issue.
Perfecting a Lien on a Motor Vehicle and Boat
In Illinois and Wisconsin a lien on a titled motor vehicle or boat cannot be perfected through the filing of a UCC financing statement. Instead, the secured creditor's lien must be noted on the title to the motor vehicle or boat with the proper state department. While in some jurisdictions, simply holding or controlling title to the motor vehicle perfects a secured party's lien, this is not true in Illinois and Wisconsin. A secured party who fails to have its lien noted on title would lose a priority dispute to a creditor who is noted on title or to a bankruptcy trustee. Therefore, at closing it is important for the lender to ensure that its lien is registered with the proper state department.
Perfecting a Lien on Cash
The second area where a UCC financing statement does not provide a perfected security interest is cash, or sometimes more importantly a bank account which contains cash. This perfection is obtained only through control. While in many cases a secured lender has the necessary control when its borrower maintains all of its accounts with the lender, this is not true when the borrower maintains any of its accounts at another financial institution. In this case to perfect its lien the lender must enter into an agreement commonly called a "control agreement" with the third party financial institution to acknowledge the lender's lien and control over the account. Without this the lender will lose a priority dispute to others, including a third party financial institution or a judgment lien creditor.
Perfecting a Lien on Stock or Securities
It is a common situation for a lender to require its borrowers or guarantor to put up the stock or membership interests of the borrower or affiliates as collateral. In addition, to the extent the borrower or guarantor owns additional unrelated holdings; those may be used as collateral to secure a loan. Public and private stock, membership interests and other securities which are used as collateral raise a litany of perfection and priority concerns which very likely may not be solved simply filing a UCC Financing Statement. Many times the secured parties need to obtain a level of control over this type of collateral. Relying only a UCC financing statement very well may leave the lender unsecured.
While this is far from an exclusive list, an "all asset" UCC Financing statement is misleading at best and dangerous at worst. A lending party who believes it has adequate security for its loan can easily be left empty handed by simply relying on its UCC financing statement. At times, a financing statement fails to cover all types of assets a borrower may provide as collateral, for instances, livestock, airplanes, insurance proceeds and other collateral may require additional steps to perfect a lien. Thus, it is important to investigate what collateral your borrower is providing to secure the loan and then confirm how a security interest in those assets is perfected. At Carlson Dash we can help to ensure that you walk away from the lending table confident that you have obtained a perfected security interest in all collateral which secures your loan.
[1] While a financing statement may have a description of "all assets" a security agreement must have a more detailed description of the collateral covered.
This document is intended for informational purposes only and is not legal advice or a substitute for consultation with a licensed legal professional in a particular case or circumstance.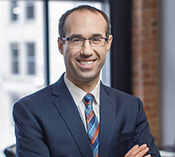 Martin J. Wasserman | Commercial Litigation and Bankruptcy
Martin advises clients in both Illinois and Wisconsin on an array of commercial litigation and bankruptcy matters, including loan workouts, issues, receiverships and commercial foreclosure matters. Martin has extensive experience in all aspects of litigation in both federal and state courts, complex workouts and a growing appellate practice. If you need assistance with a related matter, contact Martin.