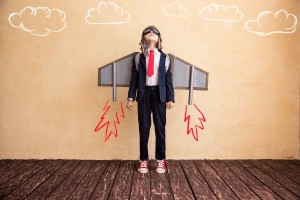 Last Friday we sat down with Leslie Smith, the President of Memphis-based Entrepreneurship-Powered Innovation Center (EPIcenter), to discuss all things startup. EPIcenter is a community-wide, collaborative initiative that helps entrepreneurs "conceive, launch and scale businesses in the Memphis region." EPIcenter serves as a central point of contact for the Memphis region's entrepreneurship ecosystem and coordinates resources from various organizations in the community such as accelerators, incubators, mentors, investors, networking programs, and technical assistance programs for entrepreneurs. Together with its partners, EPIcenter is pursuing a common goal of creating a robust and vibrant entrepreneurial ecosystem in the Memphis region.
Leslie joined EPIcenter this year after serving as President and CEO of TechTown Detroit for the past five years where she was instrumental in coordinating entrepreneurial efforts in Detroit and rebuilding Detroit's economic landscape through the spirit of entrepreneurs who were equally committed to Detroit's future.
Here is a summary of our conversation with Leslie which focuses on what startups need to know and what services are available to give them their best shot at succeeding.
How does a program like EPIcenter support new startups?
One of EPIcenter's goals is to connect startups to a ready pool of resources such as: subject matter experts and legal counsel as well as experts in accounting/finance, marketing/brand execution, design, and distribution all of whom are committed to helping build a solid footing for your business.
In addition, we want to provide entrepreneurs access to capital, assistance with determining and setting up your organizational structure, guidance on insurance, payroll, etc. When you're just starting out it's easy to think that you are not at this point in the process, but making these decisions early on places you in a better position as your business grows.
What separates a successful startup from a failed startup?
The single most important thing that distinguishes a successful startup is having the right people by your side. You've heard it before, ideas are a dime a dozen and an excellent innovation or idea can be destroyed by a mediocre team, whereas an excellent team can propel a mediocre innovation or idea to complete success.
The people you surround yourself with should bring expertise to the table that you may not possess, or is an area in which you are not as strong. They should be risk tolerant and passionate about the entrepreneurial journey in general.
After people, having your capital, timing and technology all come together at the same time is another mark of a successful startup.
You have your idea, initial funding and the right people in place for your team. What are the next three biggest hurdles a startup will face?  
1. The earliest execution in a startup is securing your funding. Early funding sources usually come from friends and family or from your own personal investment. You have successfully secured your initial capital however, because of who makes up your funding source your customer discovery will not be as robust during this phase. Your friends and family, while supportive, are most likely not the best people to give you the honest feedback that you need to secure additional funding as you move into the next phase of your business. We touch on how you can counteract this lack of diversity a little later in the article.
2. The transition moving from startup to upstart can also be a hurdle since your talent will need to change their focus and the founder needs to shift into a different role. This transition can be difficult for a couple of reasons:
Ego: The founder typically provides the initial idea, whether its technology based or IP protected information, and is usually the initial investor. It can be a challenge to trust others.
Skillset: Coming up with the ideas and possessing the ability to bring their innovation or idea through the startup phase does not mean the founder has the necessary set of skills to successfully move into the next phase. An engineering/research CEO is not always the best chief advocate or business officer.
The need to relinquish some control to further the business is sometimes met with fear and concern over loss of control or credit. A local entrepreneurship organization or business incubator can be incredibly helpful with this transition as the entrepreneurial network provides access to an available pool of talent who are ready to assist with the transition. It will be important for you to objectively assess your weaknesses, and Leslie has a great tip for that in a minute.
3. This last hurdle will always be there. Money will always be an issue; at all phases of your business. Knowing your business, understanding your customers and having the right people pushing in the same direction can help you overcome this hurdle every time.
I know my strengths, but how can I objectively identify my weaknesses?  
In order to identify your weaknesses, you need to surround yourself with people who will tell you what they are because you won't see them. This is where an advisory board comes into play. An advisory board would not necessarily be your board of directors, or a group comprised only of business professionals. It can be made up of early investors, your mentors, bankers, industry experts; basically a broad group of people who won't blow smoke at you. You need the members to be comfortable with being honest with you in order for you and your business to benefit.
Circling back to the funding aspect, what is your take on crowdfunding sites?
Love the notion of it; the idea of raising community capital and the consumer as investor. Unfortunately, federal investment laws have not caught up with these sites so they are limited to smaller dollar amounts. They are however good for market validation and small batch manufacturers because of the ability to generate orders to cover production costs.
Finally, what benefit does legal support and guidance provide a startup and how does that relationship change as the startup evolves?
Entrepreneurs are not thinking about the fundamentals of starting a business which is where legal counsel comes in. Tax counsel can also advise on the implications of the various organizational structures to the founders/owners.
In the beginning, a startup benefits from guidance on corporate structure, risks and liabilities, and assistance with filing organizational documentation. As the startup grows the relationship will evolve as the company's needs change, but the relationship is already in place.
If you are interested in finding entrepreneurial support, here are some organizations in Chicago and Southeast Wisconsin.