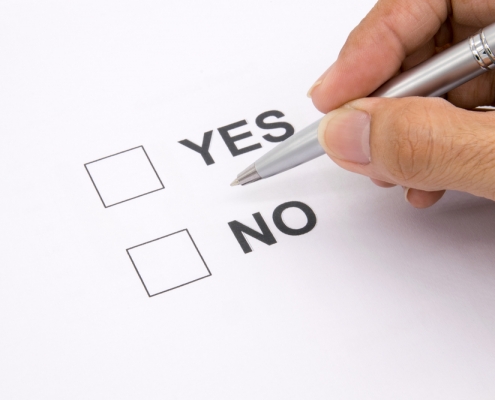 Employers have a morass of laws – federal, state and local – to navigate in their day-to-day operations. This is true even before an employee is hired. Will the employer obtain a background check? What information can be obtained regarding a potential employee's background, and exactly when can it be obtained? The answers may depend on what background information an employer is seeking: work history, education, financial history, medical history and, yes, criminal history. Employers are required to abide by federal laws like Title VII and the Fair Credit Reporting Act, as well as state and local equivalents. Increasingly, this includes "Ban the Box" legislation.
The "box" referred to is a question on a job application that asks whether the applicant has ever been convicted of a crime. The purpose of Ban the Box legislation is to help individuals convicted of a crime get a job after their release. In its various forms, the underlying intent is to delay when an employer can inquire about past criminal convictions with applicants. Hawaii was the first state to pass Ban the Box legislation in 1998. Its law prohibits employers from asking about an applicant's criminal history until after a conditional offer of employment has been made. In simple terms, an employment application cannot contain a question that requires an applicant to check a box if the applicant had been convicted of a crime, although most Ban the Box legislation goes much further than that.
Ban the Box legislation continues to gain momentum. As it does, employers are increasingly confused about what criminal background questions can be asked, and exactly when they can ask them. It is no wonder that confusion abounds. As of 2018, over 30 states and 200 cities and municipalities had some version of a Ban the Box law – and, few, if any, apply the same restrictions in the same fashion. To combat inconsistencies that arise due to a patchwork of local Ban the Box legislation, some states have taken matters into their own hands. For example, in 2017 Indiana became the first state to bar local Ban the Box laws. Michigan passed similar legislation in 2018.
In Michigan and Wisconsin, Ban the Box legislation only applies to state employment, not private employers. However, on January 1, 2015, the Illinois Job Opportunities for Qualified Applicants Act ("Qualified Applicants Act") went into effect.  The Qualified Applicants Act applies to private employers in Illinois that employ 15 or more employees in the current or preceding calendar year and, with 3 limited exceptions, prohibits employers from asking about, considering, or requiring disclosure of the criminal record or criminal history of an applicant until the applicant has been determined qualified for the position and notified that the applicant has been selected for an interview. If the employer is not going to conduct an interview, the prohibitions remain until the employer makes a conditional offer of employment.
While the Qualified Applicants Act only applies to private employers with 15 or more employees, the City of Chicago Ban the Box Ordinance applies to any employer that has one or more employees and that maintains a business facility in the City or is subject to the City's licensing requirements. The prohibitions in the Chicago Ordinance track the prohibitions in the Qualified Applicants Act.  Under both laws, once the milestones have been met, an employer is no longer prohibited from making the inquiries. However, under the City of Chicago Ordinance, if an employer makes a decision to not hire an applicant based in whole or in part on the applicant's criminal record or history, the applicant must be informed of this at the time the decision is made.
What does this all mean for employers?  Employers must know which questions are appropriate and when you can ask them. In addition, employers must be aware of what might constitute an improper basis for refusing to hire an applicant. This can vary from state to state and city to city. For employers who hire and employ individuals in multiple states and/or cities, they must be aware that what may be legal in one location may not be in another.
This document is intended for informational purposes only and is not legal advice or a substitute for consultation with a licensed legal professional in a particular case or circumstance.
C. Douglas Moran | Employment, Complex Commercial Litigation, Real Estate Litigation and Bankruptcy Litigation
Doug concentrates his practice in representing employers, corporations and banks in litigation, including complex litigation. Doug has represented employers, banks and companies ranging from single member LLCs and closely-held corporations up to Fortune 500 companies, contact Doug.