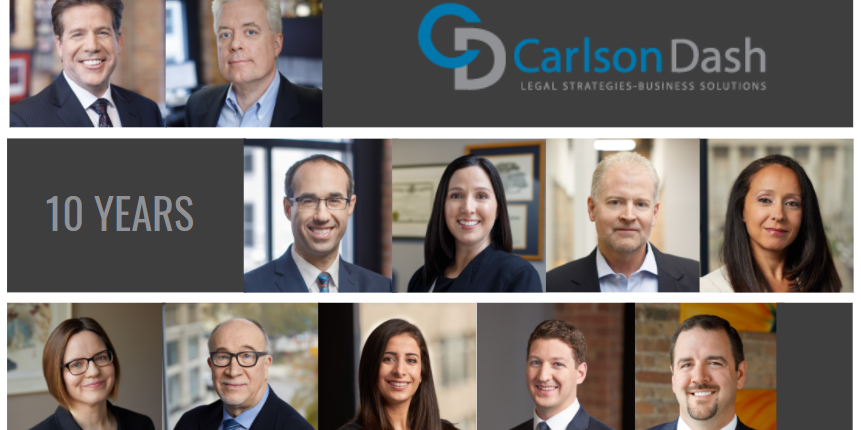 It has been 10 years since Carlson Dash opened its doors. We sat down with Kurt Carlson and Jim Dash to talk about what it was like then and where it is now. In their words…
KMC: Friday, May 13, 2011, was one of the more interesting days of my professional career. It was the day I left a mid-sized Chicago firm after 21 years of practicing law and decided to do things differently.
Marty Wasserman joined me later that day and by the end of the following week Jim Dash, Wendy Reutebuch, and a few other attorneys had joined us. And from the most modest office imaginable – an office lacking everything one is accustomed to seeing in a law office – we grabbed our cell phones and began calling clients to let them know we were starting something new. It was at that point that we all learned just how loyal of a client following we had: 95% of our clients and matters came with us!
Just six months later, with some nudging from our clients, we opened our Pleasant Prairie, Wisconsin office. More recently, in January 2019, we acquired a very talented Milwaukee firm.
Before I say one more thing, I want to thank all of our clients, families, friends, and vendors, for your trust, confidence and loyalty in all of us at Carlson Dash, LLC for these past 10 years. We look forward to being a valued resource for years to come.
What were those early days like at Carlson Dash?
KMC: 'Humble beginnings' is an accurate description of our start. At the outset, we made office cubicles from hundreds of client file banker-boxes that were shipped over, which could not have happened without the tremendous support we received from our clients. We had our friends and family members helping with administrative support, technology, marketing matters, client communications, and even the acquisition of our current office spaces. Most humbling was the support our clients provided. To this day, I get a little choked up just thinking about how our clients rallied around us.
JMD: Like most start-ups, the early days contained a mix of emotions, mainly excitement and anxiety – excitement of starting our own firm; anxiety over whether we would be able to meet our expenses until enough revenue started coming in to cover them. But I had confidence in our team. We had several attorneys with a good mix of skills and personalities for a start-up, and we were fortunate to get some fine applicants for our staff. The fact that we're still here, even after a pandemic, is evidence that we made some great choices in all of our hires.
What have you learned these past 10 years?
KMC: Over the past 10 years, we have faced many challenges, and we use those lessons to help our clients navigate business challenges that we ourselves have had to conquer. While we still have modest offices in a turn of the last century building, we have graduated from cardboard box cubicles to glass walls. Our firm still has that family feel, with our attorneys and staff going above and beyond consistently. We have learned that we depend so heavily on our own vendors, that we know we are that trusted vendor to our own clients. It makes it very easy to understand the importance of serving clients as their trusted partner. As we have grown, our base of clients has grown, and through each new experience with a client, staff member, attorney, we learn something and become better at our trade, and better at life.
JMD: Life is a constant learning process, so the answer is too much to recount. But I'd say that one of the biggest-picture items is how much there is to running a law firm, or any organization, beyond the delivery of services. My view is that we have tremendous legal talent. Getting the word out and improving on our delivery of those legal services, quickly and cost effectively, without sacrificing client satisfaction is the challenge we give ourselves. We have succeeded in some important parts of this equation, but it is all about constantly improving ourselves as people and as lawyers. Working with people that we inherently trust allows us to continuously improve, because we know the feedback on the handling of a case, even on an all-out win, is coming from a good place.
What has been the key to Carlson Dash's success?
KMC: Our biggest investments have been in people and technology, both of which allowed us to not miss a beat throughout the pandemic while we all picked up and worked from home remotely without interruption. We put a hiring process in place that has given us exceptional depth in skills, and even allowed us to successfully onboard three team members during the pandemic. Also in the past 10 years, we've added attorneys who focus in practice areas such as residential real estate, estate planning, special needs trusts, as well as dairy, brewery and employment law to complement our existing practice areas of business law, corporate bankruptcy, construction, mechanic's liens, commercial real estate, workouts and commercial litigation. Our firm's culture of hard work mixed with fun – rather than the raw pursuit of the almighty dollar – has cultivated a sustainable and healthy work environment. Choosing a life work balance over cashing in is not for everyone, but for those of us who have a deep appreciation for the balance between hard work and a good life, it has been an adventurous "all in" team effort made possible by our friends, families, and clients.
JMD: We have had our share of successes, and so many people have contributed to the firm being where it is – including people who went on to pursue other endeavors. I am grateful for the efforts of everyone involved. But we all know that past results aren't necessarily indicative of the future. We never stop looking for ways to do it better. That drive is what will make us successful in the future.
What do the next 5 years and beyond look like for Carlson Dash?
KMC: While the next 5 years will see some necessary changes, one thing will not change: Carlson Dash will continue to assure that our mission of results-driven service to clients grounded in practical, outside of the box, legal advice will always remain our top priority. That mission helps us not only retain clients, but to continue to grow and deepen those client relationships.
Our website features some real-time metrics on cases and results. We boast that we have made hundreds of millions of dollars for our clients, but the best metric of all is not tracked on our website. We do not advertise how many of our clients, family, and friends refer us to other clients. Those referrals mean that we are top of mind when they have a legal problem that they need help resolving. Those referrals mean far more to us than any other, because we know how important it is to make a good referral and we all wear being a trusted resource as a badge of pride. We value that, we appreciate that, and we work every day to earn that trust and respect.
JMD: As we move forward, we take many lessons with us. The primary lesson of the past year was to expect the unexpected and always remain vigilant and prepared, with good systems in place to weather any storm, for us and our clients. We are excited about the prospect of being ahead of the curve in the business legal world in this endeavor.