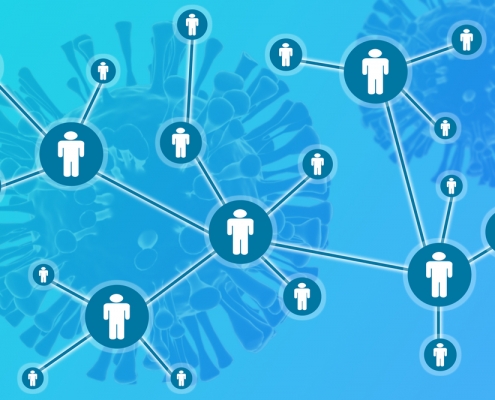 There has been much discussion about contact tracing, how accurate it is, and whether or not it will help our country and economy more fully reopen. For those who have not heard, contact tracing is the ability to determine, through smartphones, whether or not one has come into contact with someone who has tested positive for COVID-19. There are advocates and there are detractors to this technology (referred to as TACT – technology-assisted contact tracing). While proponents argue that it represents our best chance for reopening our businesses and economy by tracing the virus and containing its spread, others argue that the use of TACT violates rights to privacy, may violate rights to medical information, and can result in many false positive and false negative readings.
To illustrate the false positive issue, imagine that your phone is on your desk in your condo. In the condo next to you, just on the other side of the wall, is a person who has tested positive for COVID. Because of the proximity of your phone to the person with COVID, and the inability of TACT to discern a wall between the person and your phone, that could create a false positive reading.
In the context of employment, while the EEOC has given the green light to taking the temperature of your employees and asking employees about symptoms, as well as being able to keep and maintain logs of that data, the EEOC is less clear on its approval of using TACT. The issue employers will face in using TACT is what action is legal, and reasonable, if an employee has a positive TACT result, meaning the employee was in contact with someone who tested positive for COVID-19, and therefore, may have been exposed. Google's exposure notification in its app is meant to alert "participants about possible exposure" to someone who has subsequently tested positive for COVID-19, using "Bluetooth beaconing to detect proximity." But as critics have pointed out, this technology has various ways of creating "false positives."
As such, employers who want to use TACT as a tool to assists them in screening employees as they return to work will want to work with legal counsel to assess all risks and determine appropriate measures to take. We will, of course, continue to monitor the EEOC's stance on the applicability of TACT as a tool in returning to the workplace.
This document is intended for informational purposes only and is not legal advice or a substitute for consultation with a licensed legal professional in a particular case or circumstance.
Jonathan S. Safron | Construction Law and Mechanic's Liens
Jonathan is a construction/mechanic's lien litigation attorney at Carlson Dash. If you need assistance with a related matter, contact Jonathan.
C. Douglas Moran | Employment, Complex Commercial Litigation, Real Estate Litigation and Bankruptcy Litigation
Doug concentrates his practice in representing employers, corporations and banks in litigation, including complex litigation. Doug has represented employers, banks and companies ranging from single member LLCs and closely-held corporations up to Fortune 500 companies, contact Doug.