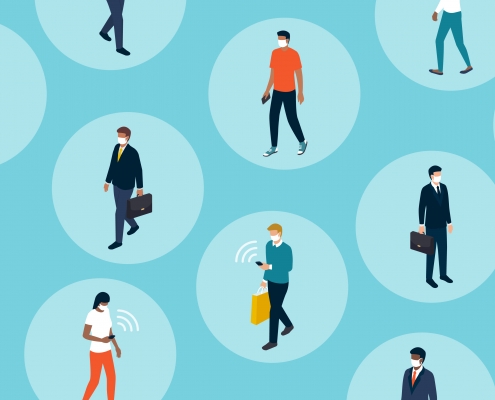 Our firm, like most others in the city, worked remotely to do our part to 'flatten the curve' of COVID-19. Now, as restrictions ease and some businesses are starting to reopen their workplaces, we must all consider the appropriate measures to safely return to the office. How does one reopen a workplace in this environment?  It depends on the nature of your business, the physical characteristics of your business, your floor plan, the number of employees involved in your business, and it depends on how may employees you will need on site at a given time to profitably run your business.
That said, some tips are universal, and we will highlight some here:
1) You need some initial communication with all employees and stakeholders to get a sense of where everyone is at with a return to the workplace and what concerns they may have about that return.
2) Keeping those concerns in mind, you develop your plan. Having a plan can alleviate anxiety if your entire team knows that there was some thought that went into their return to work. The plan, however, needs to be flexible and alive to adjust to feedback from team members if something is not working as intended. To draw up a plan, consider the restrictions implemented by your state, city, and municipality then try to imagine a full day of your business operations. The plan should integrate the floor plan, the workspaces, and envision the daily comings and goings that are needed by each location, floor, department, and person so the employees can be fully engaged while keeping safety at the forefront. Identify the areas that need adjustments to comply with safety measures advised by the CDC and imposed by your local government.
3) Communicate the plan as the work in process it is to your trusted supervisors and leadership team, as well as key employees who can provide constructive feedback, and talk the entire plan through soliciting open and honest input.
4) Once the plan has conceptual sign off, begin implementation by first addressing the physical space, as well as supplies that may be on backorder, as those two items will be most time consuming. Some things to consider: do you need to install physical barriers such as plexi-glass, do you need to move furniture or stations to promote social distancing, and does your space allow for social distancing if your entire team went back to work or do you need to implement rotating schedules? Do you need to trickle in, portions of the company at a time, or do you bring everyone back at once?
5) After the physical space has modifications completed, it should be cleaned and sanitized, professionally. Your plan should also promote continued cleanliness of the workplace. This includes refrigerators, microwaves, coffee machines, and any other community use items. Encourage employees to clean and sanitize after themselves by adopting a National Parks rule: take out what you bring in, and leave nothing behind other than your footprints.
Some additional considerations:
The plan should provide some PPE supplies, to the extent possible, otherwise encourage that employees bring such face coverings from home that they are most comfortable wearing when necessary.
In addition, the plan should mandate that anyone who is feeling ill should stay home. No one should be muscling through in this environment. Heroes will become goats by potentially spreading the virus to their workplace colleagues, and their families.
If you have more than one location, limit or prohibit "bouncing" between offices to limit the possibility of having a complete shutdown of all offices should people become sick with the virus in one location.
Consider face coverings in the common areas, particularly if there are people that work in common areas, so they do not need to always wear face coverings. Give consideration to allowing looser restrictions in more private or remote workspace areas, and provide hand-sanitizer stations where possible.
When and where possible, promote one-way traffic patterns through the workspace.
With none of us having lived through anything like this before, err toward over-communication of the plan and its implementation with your team. Empower them to ask questions, provide feedback, and create a space for your team to voice any of their anxieties about physically returning to the workplace. Address their concerns with patience and understanding.
Recognize that just because restrictions are being lifted, the virus has not been eradicated so there is no guarantee of avoiding the virus completely and there is no one-size fits all for every business. COVID-19 is still spreading so being mindful and being respectful will foster a safe return to work.
This document is intended for informational purposes only and is not legal advice or a substitute for consultation with a licensed legal professional in a particular case or circumstance.
Mona Naser | Practice Areas: Commercial Real Estate, Business Transactions, Litigation, and Workouts
With over 17 years of experience, Mona has worked on a number of various legal matters for corporate and individual clients including commercial real estate, corporate matters, civil litigation, and commercial financial matters. If you need assistance with a related matter, contact Mona.
Kurt M. Carlson | Litigation, Corporate Transactions, Commercial Bankruptcy, Restructurings and Creditors' Rights
Kurt concentrates his practice on representing clients in litigation, corporate transactions, commercial bankruptcy, restructurings and creditors' rights. If you need assistance with a related matter, contact contact Kurt.