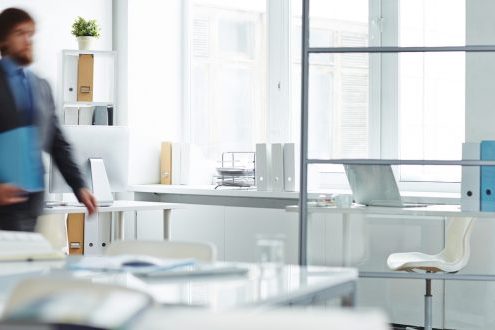 On September 20, 2017, the United States Court of Appeals for the Seventh Circuit issued a comprehensive ruling on whether extended leave is a reasonable accommodation under the Americans with Disabilities Act ("ADA") in Severson v. Heartland Woodcraft, Inc.
Background
The case involved an employee who experienced chronic back pain which predated his employment. He began working at Heartland in 2006, and approximately four years later was diagnosed with back myelopathy due to degeneration in his back, neck, and spinal cord. While his back condition did not typically hamper his ability to work, he sometimes experienced severe flare-ups that made it difficult (if not impossible) for him to walk, bend, sit, lift, stand, etc. In June, 2013, Severson experienced a debilitating flare-up, causing him to leave work early and to ultimately request leave under the Family Medical Leave Act ("FMLA").
For the next twelve weeks, Severson used his FMLA leave and obtained treatment for his injury, all the while keeping Heartland informed of his progress. Severson was scheduled for disc decompression surgery on August 27, 2013, which was the same day that his twelve-week FMLA leave expired. He requested an extended leave of absence starting after the expiration of his FMLA leave. The day before his scheduled surgery and FMLA-leave expiration, Heartland communicated to Severson that his employment would be terminated when his FMLA leave expired the following day. Heartland invited Severson to reapply with the company when he recovered and was medically cleared to work.
Severson recovered some months later, and instead of reapplying at Heartland, he sued the company and alleged that it discriminated against him in violation of the ADA. The Equal Employment Opportunity Commission ("EEOC") supported Severson's position, but ultimately, the Seventh Circuit affirmed the lower court's ruling in favor of Heartland and concluded that a "multimonth leave of absence is beyond the scope of a reasonable accommodation under the ADA."
Court's Decision
To reach its ruling, the Seventh Circuit looked to the ADA's language. The ADA makes it unlawful for an employer to discriminate against a "qualified individual on the basis of a disability." A "qualified individual" is an "individual who, with or without a reasonable accommodation, can perform the essential functions of the employment position that such individual holds or desires." As the parties agreed that Severson was disabled, the question was whether the employer violated the ADA by failing to reasonably accommodate Severson's disability.
The ADA provides that a "reasonable accommodation" is one that allows the disabled employee to perform the essential functions of the employment position. Accordingly, the Seventh Circuit noted, where a proposed accommodation does not make it possible for the employee to perform his job, then the employee is not a "qualified individual" within the meaning of the ADA. Following this rationale, the Seventh Circuit held that a long-term leave of absence cannot be a reasonable accommodation because "not working is not a means to perform the job's essential functions." This is not to say that a short leave of absence—"a  couple of days or even a couple of weeks"—could not be a reasonable accommodation. However, the court found that an individual's inability to work for a multi-month period removes that person from the class of "qualified individuals" who are protected under the ADA. Ultimately, while the FMLA protects up to twelve weeks of medical leave, recognizing that employees will sometimes be unable to perform their job duties, "the ADA applies only to those who can do the job."
Implications

This decision is important because it contradicts the EEOC's position that long term leave is a reasonable accommodation under the ADA. Currently, the EEOC advises that employers should consider providing unpaid leave to an employee who has exhausted his or her FMLA leave. In addition, the EEOC indicated that the Seventh Circuit's holding in Severson may conflict with decisions previously reached by the First, Sixth, Ninth, and Tenth Circuits. Accordingly, employers should proceed with caution and consult with an employment attorney if faced with an employee who seeks extended leave as a reasonable accommodation for his or her disability.
This document is intended for informational purposes only and is not legal advice or a substitute for consultation with a licensed legal professional in a particular case or circumstance.
C. Douglas Moran | Employment, Litigation: Complex Commercial, Real Estate and Bankruptcy
Doug's practice focuses on providing employers with advice and counsel in employment-related matters, and representing employers, corporations and banks in litigation, including complex litigation. If you need assistance with a related matter, contact Doug.