In last month's Carlson Dash Digest, we kicked off our short series on Illinois mechanic's liens by taking a look at mechanic's liens in general. Today's blog focuses on who is entitled to a lien.
Generally speaking, those who contract to "improve" the land may become entitled to a mechanic's lien.
Many services are obvious. Persons who contract to pour concrete footings or to furnish and/or erect structural steel through those who contract to paint and to install carpeting (under certain circumstances) have been held to be entitled to a lien. However, some types of work are closer calls. Does an excavating contractor "improve" the property if a hole is left unimproved? How about someone who installs temporary lighting for construction only? How about the surety who provides a performance bond? Or the attorneys who make the deal happen? There are literally dozens of cases addressing individual services under particular circumstances, but many situations have not been addressed and there often is room for argument.
Section 1 of the Mechanics Lien Act defines who is entitled to a lien. Broken down into bite-sized pieces, the people entitled to a lien are those who contract:
1.     to furnish labor, services, material, fixtures, apparatus or machinery, forms or form work used in the process of construction where cement, concrete or like material is used for the purpose of or in the building, altering, repairing or ornamenting any house or other building, walk or sidewalk, whether the walk or sidewalk is on the land or bordering thereon, driveway, fence or improvement or appurtenances to the lot or tract of land or connected therewith, and upon, over or under a sidewalk, street or alley adjoining; or
2.     to fill, sod or excavate such lot or tract of land, or do landscape work thereon or therefor; or
3.     to raise or lower any house thereon or remove any house thereto, or remove any house or other structure therefrom; or
4.     to perform any services or incur any expense as an:
a. architect,
b. structural engineer,
c. professional engineer,
d. land surveyor, or
e. property manager,
in, for or on a lot or tract of land for any such purpose; or
5.     to drill any water well thereon; or
6.     to furnish or perform labor or services as superintendent, time keeper, mechanic, laborer or otherwise, in the building, altering, repairing or ornamenting of the same; or
7.     to furnish material, fixtures, apparatus, machinery, labor or services, forms or form work used in the process of construction where concrete, cement or like material is used, or drill any water well on the order of his agent, architect, structural engineer or superintendent having charge of the improvements, building, altering, repairing or ornamenting the same.
While there are some differences in how original (not necessarily "general") contractors and subcontractors perfect their claims, the nature of the lien does not vary with the position of the claimant. Section 21 of the Act is clear that subcontractors "shall have a lien for the value thereof, with interest on such amount from the date the same is due, from the same time, on the same property as provided for the contractor," although subcontractors have an added lien "on the moneys or other considerations due or to become due from the owner under the original contract." There is a recent case, consistent with prior cases, holding that a lower-tier subcontractor's lien extends only to the funds due to its immediate subcontractor. GX Chicago, LLC v. Galaxy Environmental, Inc., 2015 IL App (1st) 133624 (July 27, 2015).
The Act does not distinguish between (sub)contractors and material suppliers, construction managers, equipment supervisors, laborers, etc. with respect to liens on private property; the question is whether the claimant "improved" the property as defined in section 1. On the other hand, at least one court outside Illinois has suggested that an owner/developer cannot lien his/her/its own property where no contract exists to compensate that person. Dibner v. Winthrop Group, Inc., 2002 WL 983196 (Conn. 2002). Given the statutory language in Illinois, we suspect that the existence of a contract with the owner, etc., is required, but what if the owner creates a different (wholly-owned?) entity to act as the "original contractor" even though it does nothing but hold (sub)contracts? From a claimant's perspective, the existence of such an entity could convert a "contractor" into a "subcontractor," at least adding a perfection step. From an unwary lender's perspective, it could result in some funny-business where the owner intention­ally does not pay its wholly-owned entity, pockets money and then claims a lien on the property that could trump the lien of the mortgage. There are many unanswered questions in this area.
This document is intended for informational purposes only and is not legal advice or a substitute for consultation with a licensed legal professional in a particular case or circumstance.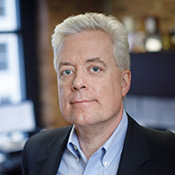 James M. Dash | Real Estate Litigation, including Title Defense, Construction and Mechanic's Liens
Jim concentrates his practice in real estate-related litigation, with an emphasis on construction (including mechanics lien claims), as well as title insurance defense work. If you need assistance with a related matter, contact Jim.