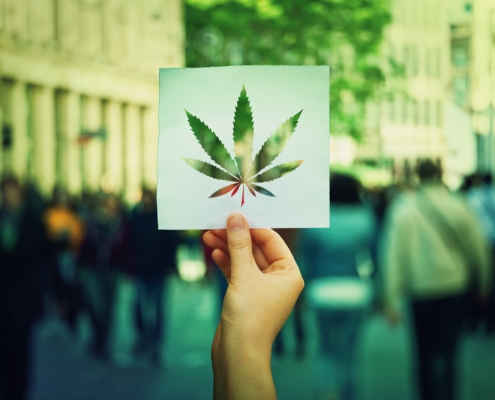 Earlier this year, Governor Pritzker signed the Cannabis Regulations and Tax Act ("CRTA" or the "Act"). On January 1, 2020, the Act's effective date, it will be legal under Illinois state law for people aged 21 and over to possess, consume, use, purchase, obtain or transport certain amounts of cannabis for personal use.
Illinois residents may possess:
30 grams of the cannabis flower (dry product),
500 milligrams of THC in a cannabis-infused product, and
5 grams of cannabis concentrate (liquid form).
Nonresident limits are:
15 grams of the dry product),
250 milligrams of THC in a cannabis-infused product, and
5 grams of cannabis in liquid form.
Under the CRTA, certain time and location restrictions will exist. For example, other than qualifying patients or caregivers of medical cannabis, the possession of cannabis is illegal on a school bus, on school grounds, or in a private vehicle (unless reasonably secured in a sealed container inaccessible while the vehicle is moving). It is also illegal to use cannabis, among other places, in a school bus, on school grounds, in a public place, "knowingly in close proximity to anyone under 21 who is not a qualifying patient or caregiver," or while operating a motor vehicle (either using or under the influence). The CRTA also prohibits smoking cannabis in pre-determined non-smoking areas.
What Are My Rights as an Employer?
The CRTA specifically addresses employer rights in the "workplace," a defined term under the Act. "'[W]orkplace' means the employer's premises, including any building, real property, and parking area under the control of the employer or area used by an employee while in performance of the employee's job duties, and vehicles, whether leased, rented, or owned. 'Workplace' may be further defined by the employer's written employment policy, provided that the policy is consistent with this Section."
The CRTA permits employers to adopt "zero-tolerance or drug-free workplace policies" or general policies regarding "drug testing, smoking, consumption, storage, or use of cannabis in the workplace or while on call provided that the policy is applied in a nondiscriminatory manner."  In addition, the CRTA provides that an employer is not required to allow an employee to be under the influence of, or use, cannabis in the workplace, while working or while on call. An employee is considered to be "on-call" when the employee has 24-hour notice of being scheduled to be on standby or otherwise responsible for performing tasks related to the employee's employment either at the employer's premises or other previously designated location to perform a work-related task. The also Act allows employers to discipline employees (including firing them) for violations of employment and workplace drug policies. The CRTA states that it does not create or imply a cause of action for employees related to employer discipline.
Further, the Act allows employers to make hiring and firing decisions if an employee, or prospective employee, refuses a test under the employer's drug policy. However, the testing, or request for testing, must be based "on the employer's good faith belief that an employee used or possessed cannabis in the employer's workplace or while performing the employee's job duties or while on call . . . ."
The CRTA specifically states that it is not to be construed to interfere with any federal, State, or local restrictions on employment including, but not limited to, the United States Department of Transportation regulation 49 CFR 40.151(e) or impact an employer's ability to comply with federal or State law or cause it to lose a federal or State contract or funding. Thus, an employer's industry will be a significant factor determining the impact of the CRTA on the employer's workplace policies.
Employee Usage and the Workplace
The CRTA addresses employee use and impairment at the workplace. This distinction between using and being under the influence is important to employers. For example, the Illinois Right to Privacy in the Workplace Act provides that an employer may not "refuse to hire or to discharge any individual, or otherwise disadvantage any individual, with respect to compensation, terms, conditions or privileges of employment because the individual uses lawful products off the premises of the employer during nonworking and non-call hours."  In conjunction with the passage of the CRTA, the legislature amended the Illinois Right to Privacy in the Workplace Act to add the language that "As used in this Section, 'lawful products' means products that are legal under state law."  Because the use of recreational marijuana is legal under state law, an employer cannot fire an employee merely for using marijuana when the use did not occur at the workplace and the employer does not have a good faith belief that the employee is impaired or under the influence of marijuana at the workplace. As such, with some industry-specific exceptions, zero-tolerance use policies will no longer be permitted.
So how does an employer obtain a good faith belief that an employee was impaired or under the influence of marijuana?  The CRTA lists factors an employer may consider:
…an employer may consider an employee to be impaired or under the influence of cannabis if the employer has a good faith belief that an employee manifests specific, articulable symptoms while working that decrease or lessen the employee's performance of the duties or tasks of the employee's job position, including symptoms of the employee's speech, physical dexterity, agility, coordination, demeanor, irrational or unusual behavior, or negligence or carelessness in operating equipment or machinery; disregard for the safety of the employee or others, or involvement in any accident that results in serious damage to equipment or property; disruption of a production or manufacturing process; or carelessness that results in any injury to the employee or others.
Under the CRTA, it is not enough that an employee has THC in his or her system. Rather, for an employer to take adverse employment action against the employee, the employer must be able to provide specific, articulable symptoms manifested by the employee. However, the Act does not say how many symptoms are sufficient, or what other symptoms may be considered by the employer to reach the conclusion. Further, once an employer has decided to take adverse action based upon the employer's good faith belief that an employee was impaired as a result of the use of marijuana, or under the influence of marijuana, at work, the employer must give the employee a reasonable opportunity to contest the basis of the determination. Again, the CRTA provides no real direction as to what is required. Legal guidance from other states that have legalized recreational marijuana is of limited value because laws differ from state to state and court interpretation of state law is not uniform. Until Illinois has developed its own body of guidance on these issues, it will be critical for employers who factor drug use into their hiring and workplace policies to carefully review existing policies, consider adaptations, and tread thoughtfully with enforcement.
This document is intended for informational purposes only and is not legal advice or a substitute for consultation with a licensed legal professional in a particular case or circumstance.
C. Douglas Moran | Employment, Complex Commercial Litigation, Real Estate Litigation and Bankruptcy Litigation
Doug concentrates his practice in representing employers, corporations and banks in litigation, including complex litigation. Doug has represented employers, banks and companies ranging from single member LLCs and closely-held corporations up to Fortune 500 companies, contact Doug.