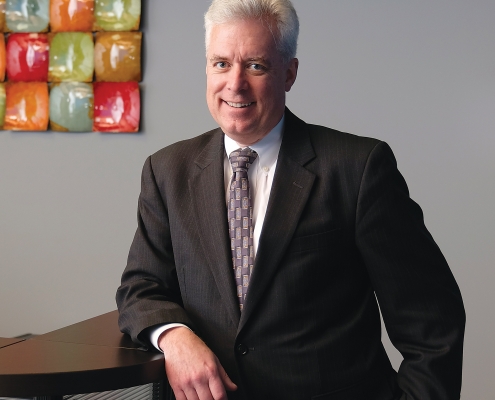 by Dan Rafter
View original publication in Leading Lawyers Magazine – Real Estate Edition for 2017
James M. Dash wouldn't refer to himself as the most argumentative of people in most social situations. But that doesn't mean he doesn't shy away from a good debate.
Dash credits this affinity for debating as one reason why he pursued what has become a long and successful career in law. This construction and real estate attorney with Chicago law firm Carlson Dash, LLC once starred on the debate teams of his high school and college. And ever since? He's been a proponent of the positive power of mounting a strong, well-reasoned argument.
"I've always loved a good, healthy argument," Dash says. "When I was on the debate team at school, I had a fair amount of success at it. I don't know if people tend to like things they are good at or are good at things they like. Whichever way is the truth, it worked out for me. Ever since I joined the debate team, I knew I wanted to be a lawyer."
How certain was Dash that his future career would be a good fit? His desire to be a lawyer guided just about every decision he made from his high school days until he finally entered the University of Houston Law Center in 1982.
"Most everything I had done between high school and law school was with the idea that I would go to law school," Dash says. "I was very fortunate. I know plenty of people who have just had a difficult time figuring out what to do with their lives. I am one of the lucky ones. I'm doing exactly what I want to do."
Dash's career, in which he has focused on construction issues, mechanic's lien claims and title insurance defense work, has now stretched for more than 31 years.
Working in any career for more than three decades is a challenge. But Dash says he has never regretted his decision to pursue law. It's a field that is simply a good fit for his personality, Dash says.
"What I like most of all about being a lawyer is the competitive nature of this career," he says. "That's not to say there isn't a lot of satisfaction when you ultimately reach an agreement with the other side. But winning a debate and a legal argument is always satisfying. It is always nice, too, when a jury or a judge agrees with you after seeing an issue your way."
A Calming Influence
Scott Smith, principal with Chicago law firm Much Shelist, says that Dash's ability to remain calm under pressure is a great benefit to his clients.
"He has this practical air about him," Smith says. "He has so much experience and knowledge that he doesn't overreact. He remains calm, while drawing on this knowledge, to find the right path for his clients. He approaches disputes and situations from a practical point of view. He seeks to work through issues from the most efficient standpoint, taking the path that will get his clients to the best results in the most efficient way possible."
And when it comes to a mastery of construction law and mechanic's lien issues? No one has more knowledge than Dash, Smith says.
"He has an almost encyclopedic memory of mechanic's lien issues and cases that support specific theories and strategies," Smith says. "He is just a great resource. You can always go to Jim and say, 'I remember this particular issue,' and he can recite off the top of his head the case name and results. That is a very useful skill."
During his career, Dash has handled several complicated cases for his clients. But some cases stand out for their complexity and for the creative methods Dash relied on to craft a positive result for his clients.
Dash points to one case in particular that ended as a published appellate opinion. Dash's client had an access easement across from his neighbor's land. The client had not yet developed the land. The neighboring landowner sued to prevent Dash's client from using the access easement.
Although Dash was the junior lawyer in that trial, he took a major role throughout, including making the closing argument. After a long trial, the judge ruled unequivocally in the favor of Dash's client. The case went to appeal, and the client won again.
Dash found such great satisfaction in this case partly because he believed the neighboring landowner was simply trying to bully the client Dash represented. Preventing that landowner from imposing his will, then, provided Dash with the feeling of accomplishment that comes from helping someone who is under unfair duress.
"That case to me was an instance in which the other side was basically a bully," Dash says. "Fortunately, it is fairly rare when you come across a case in which someone is just trying to bully your client. But when your client is getting bullied and you end up stopping that bully, that is probably among the most satisfying of things a lawyer can do."
Finding Solutions
Thwarting a bully was important. But providing his client with a winning result was even more critical, Dash says. That, after all, is the goal in every case: Find a resolution — whether through settlement or trial — that serves the best interests of your clients.
As Dash says, he is not working with clients merely to prove a point. Winning a case doesn't mean much if the costs of the trial end up causing a client to declare bankruptcy.
What does matter is solving a client's problem without causing that client undue financial stress, Dash says.
"The general philosophy I follow is that I am here to solve a problem," Dash says. "If you want to prove a point, the courts or arbitration are not the most cost-effective way to do that. They are human-created procedural mechanisms to resolve disputes. But first and foremost, we are in the business of solving a client's problems. If we can do that through non-adversarial means, that is the most cost-effective solution. I am a business lawyer. For me, it is all about the long-term cost-effectiveness."
There are times when it does make sense to pursue a trial, Dash says. But those instances are rare.
"It's usually better when you can remain in as much control as possible when trying to solve a problem," Dash says. "When you let a judge, jury or arbitrator resolve the dispute, you never know what is going to happen. Humans are unpredictable beings. They might not always see things the way you do, no matter how right you might think you are. That is something that is important for lawyers to understand."
Margery Newman, a construction law attorney with the Chicago law firm of Deutsch, Levy & Engel, sits with Dash on the steering committee of the Society of Illinois Construction Attorneys and on the Construction Law Section Council of the Illinois State Bar Association. She's also observed his legal talents for more than 25 years.
She says Dash possesses two qualities that make him an outstanding attorney: First, he is courteous and professional. Second, he knows the law and how to use it to earn positive results for his clients.
"I have always found that Jim is one of the most technical attorneys I know," Newman says. "He applies the law very carefully. He is very good at understanding the nuances of construction law. He is very good at coming up with different ways to approach problems and issues. His attention to detail is such a strong point with him. This is critical to his clients."
The real secret behind Dash's success is a steady stream of clients who not only continue to seek legal advice from him but who also recommend others to him.
How does Dash keep these clients coming back? Results are all-important, of course, and Dash has a long record of earning favorable settlements and trial victories for his clients.
But there is also a less dramatic, but equally important, reason for Dash's success: customer service. Dash is responsive. He gets back to his clients quickly and provides them answers to their questions in a timely manner.
"Responsiveness is so important," Dash says. "If you can't respond on a timely basis, at least tell that to a client. Tell them you are jammed but that you can come up for air at a certain time. This isn't just about timeliness, it's about meeting a client's expectations. It is giving them a heads-up as to how the court system and the dispute resolution systems work in the real world. It gives them an idea of what they can expect as they move through the legal process."
Meeting the Challenges
It's true that Dash has found his ideal career in law. It's true, also, that this business comes with its own share of challenges.
The key, Dash says, is to have the right personality to be able to overcome these challenges.
Uncertainty is a given in this business, Dash says. That is a big hurdle for many lawyers. They want their days to move ahead according to a set schedule. Of course, that rarely happens in law. Those who can't handle this uncertainty? They might not have the personality for a career as a lawyer, Dash says.
"The biggest challenge is learning how to deal with that uncertainty," he says. "It drives some people absolutely nuts. If you can't live with uncertainty, you are going to have a real hard time doing what we do. Things change on a dime. You might expect to have a deposition today, but the witness doesn't show up. Are you going to get mad about it or are you going to do something productive?"
The uncertainty can bewilder clients, too, Dash says. It's important for attorneys to provide their clients with realistic expectations about the legal process.
Dash makes sure to do this. He tells his clients that law is practiced by humans, and humans sometimes make decisions that are completely unexpected.
"Clients want to know what is going to happen all the time," Dash says. "The fact is, the crystal ball that I thought worked when I was a younger man? It turns out it never did. I remember a light bulb going off in my early 30s. I thought, 'Well, judges will always rule in accordance with the law. If the law is clear on an issue, the judge will always do that.' I was wrong. Human beings are human beings. They do what they are going to do. Most of the time, judges follow the law. But sometimes they don't. You need to take into account that risk."
Not surprisingly, when listing the traits that lawyers need to succeed, being able to live with this uncertainty is one Dash ranks high.
"I know people who are type-A personalities. If something doesn't go their way, they blow a gasket," Dash says. "You have to understand that there is a range of potential outcomes. A lot of what we do is play the odds. It's not going to come out in our favor every time. That is a fact of life. When the odds are in your favor, you might press a little more. When the odds are against you, you might back off and take another direction."
Dash had to change his own way of thinking as a young lawyer. He learned quickly that even when he did have the law on his side, he couldn't always predict how a judge or jury would react.
Learning this lesson has made him a stronger attorney and advocate for his clients, Dash says.
"Bottom line, I have always been more of an analytical thinker. It has taken quite a bit of training and mentoring to see that analytics isn't the only — far from the only— positive or necessary trait when you are practicing law," Dash says. "At its core, law is the regulation of human conduct.
Humans are humans. They will do things you don't expect."
A Fitness Buff
Practicing law, thanks in part to all the uncertainty, is a stressful career. Dash battles this stress by staying physically fit and active. Soccer is a particular passion of his.
Dash admits to being less than a stellar soccer player. But he does enjoy refereeing the sport, an activity in which he still participates. Doing this helps to keep him in shape as he runs up and down the field after the players. He also formerly coached soccer when his son played the sport.
Dash also runs triathlons in an effort to stay both physically and mentally sharp.
"It is important to stay healthy," Dash says. "That's a goal in my life, to be well enough, from all different points of view, to be able and willing to do all the good things that come with an active work life and family life. None of us is getting any younger. It's important to keep working at your health."
This article originally appeared in Leading Lawyers Magazine—Real Estate Edition for 2017 and has been reprinted with permission. © 2017 Law Bulletin Publishing Co.
James M. Dash | Real Estate Litigation, including Title Defense, Construction and Mechanic's Liens
Jim concentrates his practice in real estate-related litigation, with an emphasis on construction (including mechanics lien claims), as well as title insurance defense work. If you need assistance with a related matter, contact Jim.